It is a truther's version of a surprise trip to Disneyworld.  A puzzle piece that was always there but just waiting for the right time to come across your path.  What constitutes the right time?  Usually the condition of being completely unexpected b/c you were in no way focused on it, but coupled with a build-up of previous research, curious, seemingly unrelated factors on the backburner, and whatever else is needed for that bell to go off.  DING!  Gotcha.  This is it.  This is the truth.  Hidden under that sheet I'd circled 12 times.
If I had a nickel for every time I've heard over the years studying conspiracies that the Queen of England and others are raging cannibals that eat babies…. I'd have like, twenty bucks.
Until today there was not much to say or do about it.  Either believe it or don't.  Children would continue to disappear, coincidences would continue to mount, suspicions taken up, doubters continue to scoff.  But today I found out something simple, something obvious, something real.
There is a disease that is acquired in cases where cannibalism is practiced LONG TERM.  It is called Kuru, also nicknamed "laughing cannibal's disease" after one of the symptoms, uncontrolled spontaneous fits of laughter.  Basically, it's the human version of mad cow disease, causing tremors, loss of both muscular control and eventually the nervous system, then death.
Tremors, inability to walk or sit without assistance, strange outbursts….remind you of anyone else??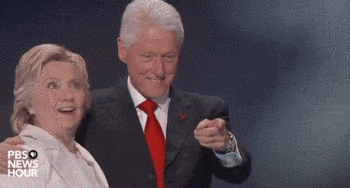 Because it is a neurological disorder that also has an incubation period, meaning it takes years even decades before a symptom emerges, it's going to have the same symptoms as other such diseases like alzheimers, strokes, things that mark the overall affliction and decline of the human mind.  Basically, if Hillary eventually is outed with merely having a "neurological disorder" and has to end her career, I believe she will have dodged a serious bullet.  Don't think folks haven't noticed Bill's tremors too.  Could be they're just two old people, but with the macabre correspondents we saw from wikileaks, not to mention the body count they've both racked up, just of what we know about, degenerative death from years of practicing cannibalism seems to fit the bill better than "old age karma."
I couldn't figure out for the life of me why 1.) "they" would overlook Hillary's constant health problems as a presidential candidate and 2.) why Hillary herself would even want to run when she clearly had something grave going on, something that seemed neurological and quite terminal.  Even conspiracy buffs could only go off her past documented medical injuries and subsequent surgeries as proof of her being unfit.  No one bothered to try understanding what was causing the falls in the first place.  Turns out there might be a distinct reason for it all.
Perhaps she continued to run, and continues to tease another bid in 2020, b/c aside from the fact that she has to cope with the side effects of eating people, she's perfectly fit to run the country.
With the uncovering of #pizzagate and now this little verifiable tidbit, I think lizard people is the only wild conspiracy theory left to unveil here.  Of course grey aliens.  Oh and flat earth.  And black goo.  Oh yeah, and that giant sentient AI computer.  Clones.   Shapeshifters.  Underground bases okay, we have a few more to go.  But if things keep going at the rate it is, we should be completely caught up in like five years.